10 Best 4C Hair Products of 2020 for Hydrated and Defined Curls
4 min read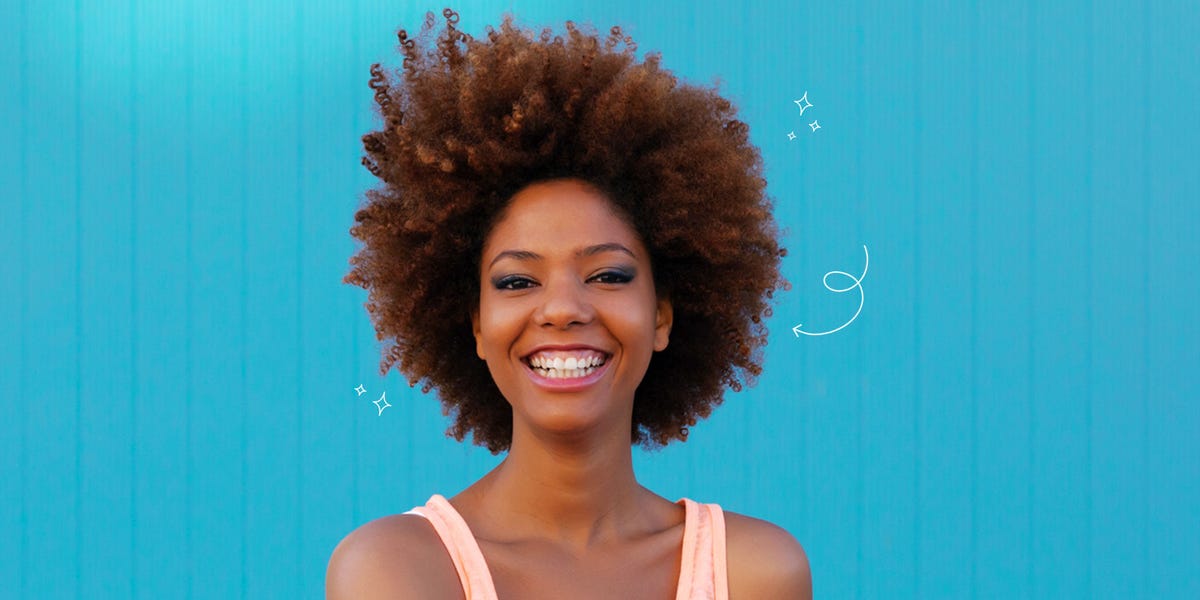 Look, I absolutely love my hair texture. But as anyone with 4c hair knows well, it takes a ton of blood, sweat, and tears to find that perfect wash-day combo that will leave your curls bouncy, defined, and hydrated. I'm pretty sure I've tried, like, a million cleansers, leave-ins, and curl creams to figure out WTF would make my hair happy.
Thankfully, through a TON of trial and error, I discovered that the key to strong and healthy curls is adding daily moisture—you want to look for ingredients like almond oil, argan oil, and shea butter. They'll hydrate your curls to the fullest without completely weighing them down. To help you out, so you don't have to test as many products as I did, I went ahead and put together a list of the 10 best 4c hair products that are packed with moisturizing ingredients that your curls will absolutely love. You're welcome.
This Deep Conditioning Mask for 4C Curls
1. Carol's Daughter Almond Milk Ultra-Nourishing Hair Mask
You need to add this mask to your weekly wash day routine ASAP. There's so much good stuff swimming around in the formula—including almond oil and shea butter—that will keep your curls feeling super hydrated and happy. Just work it into your wet hair and wash it out after about five minutes.
---
This Hydrating Shampoo for 4C Curls
2. Dove Amplified Textures Hydrating Cleanse Shampoo
Not only is this shampoo sulfate-free—so it cleanses your hair without stripping your curls—but it's also soooo hydrating. Thanks to shea butter, aloe juice, and coconut oil, this shampoo add moisture and shine, leaving your hair clean, soft, and glossy.
---
This Co-Wash for 4C Curls
3. Pantene Pro-V Gold Series Deep Hydrating Co-Wash Curls
Argan oil is the MVP ingredient in this co-wash (aka cleansing conditioner). It instantly adds shine and moisture to dry curls without completely weighing them down. You can use it to replace your shampoo and conditioner, or you can add it to your routine whenever you want to switch things up.
---
This Hair Oil for 4C Curls
4. Charlotte Mensah Manketti Hair Oil
It took me so long to find just the right hair oil that would hydrate my hair without making my curls greasy and limp. Thankfully, this oil answered all of my prayers. It softens my hair immediately without weighing it down (shout out to the manketti oil in the formula) and it helps smooth down any flyaways.
---
This Detangling Comb for 4C Curls
5. The Wet Brush Comb Detangler
Using the wrong tool to detangle your hair can lead to a lot of pain (and damage). Opt for this gentle comb instead—the wide teeth help you to detangle your hair and prevent it from shedding too much.
---
This Curl Butter for 4C Curls
6. Camille Rose Almond Jai Twisting Butter
This curl butter is infused with a hydrating mix of aloe leaf juice, honey, and almond oil extract that help soften your curls, smooth your flyaways, and bump up your shine. Another plus? It gives you great hold and definition for your twist-outs and braid-outs. A win-win.
---
This Leave-In Spray for 4C Curls
7. The Mane Choice Leave-In Conditioner Spray
A couple of spritzes of this leave-in conditioner not only adds an instant boost to dry curls, but it also detangles, moisturizes, and smooths. It also makes styling your 4C curls wayyyy easier, IMO.
---
This Gel for 4C Curls
8. Aunt Jackie's Flaxseed Don't Shrink Curling Gel
Is there anything worse than that dry and flaky texture that some gels leave behind? TBH, no. Thankfully, this curl gel exists. With vitamin E, fatty acids, and flaxseed in its formula, this gel will give you amazing definition and hold without feeling heavy or stiff on your curls.
---
This Mousse for 4C Curls
9. Nairobi Wrapp-It Shine Foaming Lotion
If you want some body added to your curls, you definitely need to add this product into your rotation. This mousse is fast-drying, adds instant sheen, and dries quickly. It also doesn't make your hair hard or flaky—it's legit magic in a bottle.
---
This Edge Control for 4C Curls
10. Hicks Edges
Edge control is a must—no matter what look you're rocking. This formula adds just the right amount of shine and hydration, leaving your curls with super-sleek edges that'll stay in place all day without flaking.
This content is created and maintained by a third party, and imported onto this page to help users provide their email addresses. You may be able to find more information about this and similar content at piano.io