Coeur d'Alene Press
2 min read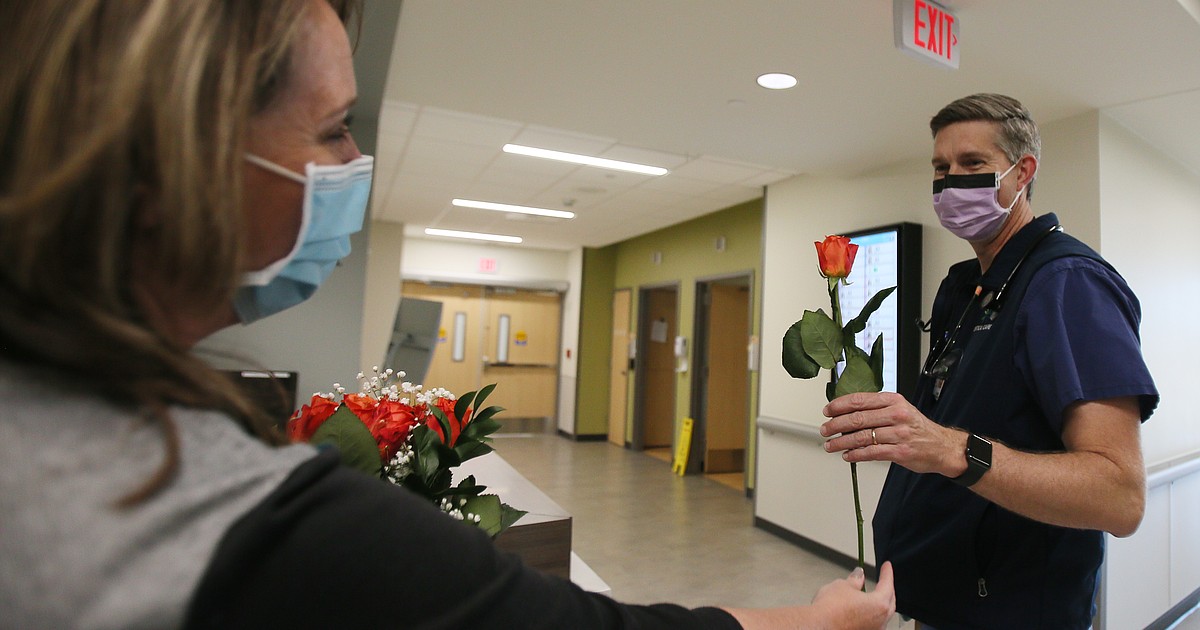 Health care workers have been burning the midnight oil, answering calls for help and tending to the wounded and ill.
On Friday, Coeur d'Alene Rotary sent a little gratitude their way, in the form of nearly 80 dozen lovely long-stem roses delivered to employees across the Kootenai Health campus.
"I think that's fantastic," Dr. Todd Hoopman said. "It's a nice recognition for the work and the effort and really the devotion to patient care that everybody at this institution has put in. It's been a very long seven-plus months, and I haven't seen any wavering or any slowing down of enthusiasm to do what's right for the patients we need to care for."
Clinical coordinator Lori Morehead was pleasantly surprised when she was handed a bouquet of cheerful yellow roses.
"Oh my gosh!" she said. "It's going to brighten our day, definitely."
Her colleague Lisa Jaecks, registered nurse, said the flowers were a nice little boost of morale.
"It reminds us that we're valued, despite how tough it's been lately," Jaecks said.
"It's incredible," said Kootenai Health compensation analyst Kaela Graham, who carried a bouquet of orangish-pink roses.
"Everything we can do to make sure all of our co-workers here know that they're valued is extremely important, whether it's a 'thank you,' a dozen roses," she said. "I think every little bit always counts."
The annual Rotary Rose Sale was another smashing success. Rotarians sold 1,450 dozen this year, breaking last year's record of 1,438 dozen sold. More than $55,000 was raised, beating last year's total by more than $6,000.
Funds collected from the Rose Sale go back into local projects, scholarships and service-related activities.
"People that were able were willing to give more because of everything that's happened this year," Rotary Rose Sale co-chair Doug Rupiper said. "We also encouraged people that we'd love to give to the first-responders and those at the hospital, those that have really put their lives on the line and worked extra this year. I think that also helped people's generosity."
Rotarians and community members pitched in to sponsor dozens of bouquets for local heroes. More than 40 were delivered to first-responders, 12 dozen were sent to the 3Cs Twisted Stitchers sewing group, who made hundreds of masks when the pandemic hit, and 50 dozen went to the Panhandle Health Volunteer Medical Reserve Corps.
Other nonprofit groups that received roses include North Idaho CASA, Community Action Partnership Coeur d'Alene Food Bank, Post Falls Food Bank, Safe Passage, St. Vincent de Paul, Tesh. Inc., Union Gospel Mission and the Village at Orchard Ridge.
"It's heartwarming," specialty procedures registered nurse Travis Samsky said. "It's just an incredibly thoughtful gesture. They didn't have to do that for us, but it's nice to be recognized for the hard work we put in."