Health center launches new mobile care unit | Local News
3 min read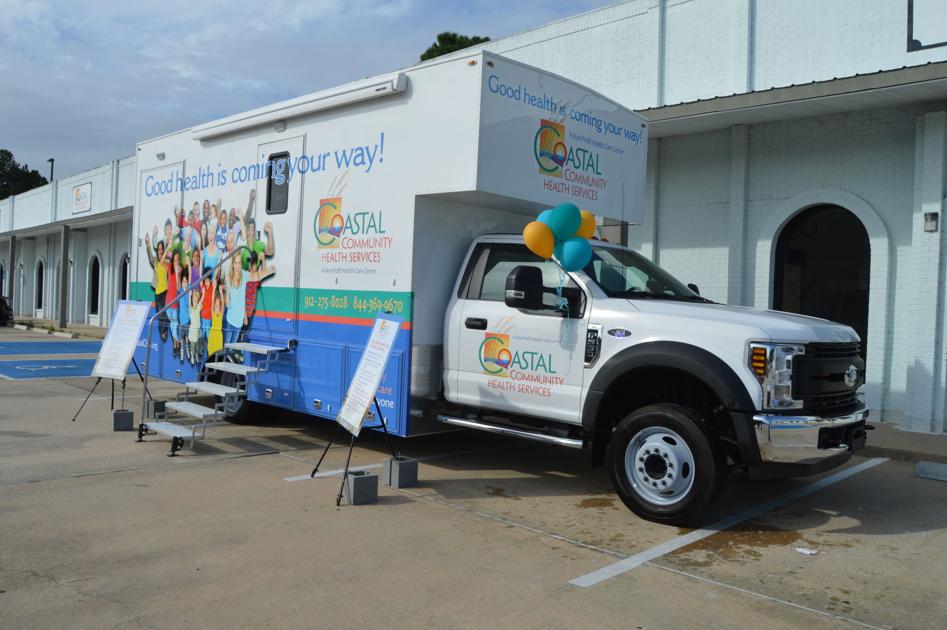 A health resource soon to be available in Glynn and McIntosh counties will serve the community's most vulnerable populations.
Coastal Community Health Services, a local nonprofit health center, plans to launch this month its newly purchased Mobile Health Clinic, a specialized medical van that will bring services to areas where residents are least likely to have access to quality primary health care.
The mobile clinic cost $255,000 and was purchased with grant funds supplied by the Department of Health and Human Services' Health Resources Administration.
"This has been a long time coming," said Barbara Meyers, CEO of Coastal Community Health Services, during an event to christen the new unit. "… I've had this dream about us being able to provide health care for the people who lack access, who are low income, who maybe haven't had the opportunities to be able to get access to health care, dental or behavioral services."
Coastal Community Health Services, which operates at three locations, provides health care to patients regardless of their insurance or economic status.
A lack of public transportation is a serious concern that comes up repeatedly in community needs assessments, and the new Mobile Health Clinic will address that obstacle by delivering health care directly to easily accessible locations in underserved areas.
The mobile health unit will be able to focus on primary and preventive care.
"When I opened up our small little shop, which has expanded over the years, I also had in the back of my mind the fact that one of the biggest problems that people have is transportation," Meyers said. "… So why not be able to provide a means to be able to drive to a location to where it's more convenient for them to be able to get services?"
The unit is expected to hit the road in mid-to-late October, and Coastal Community Health Services will rely on community support to make the new service successful.
"If I didn't have the support, it would sit here in the parking lot," Meyers said. "People have heard about it and have raised their hands and said, 'I have a need here, I have a need here.' We have a need here, and knowing that we're going to be able to help an awful lot of people makes my heart glad."
This is the first mobile health unit of its kind in Glynn and McIntosh counties, Meyers said, and its services will available for all.
"There's a lot of counties in Georgia that don't have access to a mobile health care unit," she said. "I think we're really blessed to be able to have gotten the funding to be able to have it, and I just think it's full of all sorts of potential to be able to serve more people."
One place the unit is planned to serve is The Well, a homeless day shelter in downtown Brunswick.
The Rev. Wright Culpepper, executive director of FaithWorks, which operates The Well, said he's seen how services like this, brought directly to those who need help, can make a significant difference in a person's life.
During The Well's first two years of operation, staff recorded an average of 13 deaths per year among the local homeless population, Culpepper said.
"They came to us sick," he said. "They were malnourished, they didn't have shoes, they didn't have access to health care unless somebody just happened to find them in a bad way and they called 911. And so they died."
Today, though, he said more resources have been made available, which has drastically improved lives.
The Well currently provides transportation to Coastal Community Health Services, whose services have saved many lives, Culpepper said.
"It just thrills me that you've got the ability to be mobile," he said.
Coastal Community Health Services will reach out to local organizations and others to set up a schedule for the mobile unit.
"We're reaching out to various community organizations, churches, senior citizen centers — anywhere where there might be the potential for congregates of people that are maybe getting services for one thing and may need health care services also," Meyers said.
Health care is a right, she said, and this new unit will aim to serve that purpose.
"This is a wonderful opportunity for the community to be able to access health care and keep in mind that everyone should have a right to wellness and improving their health," Meyers said.