Health officials extend drive-thru COVID-19 testing on Camano; drive-thru site coming to Stanwood | News
3 min read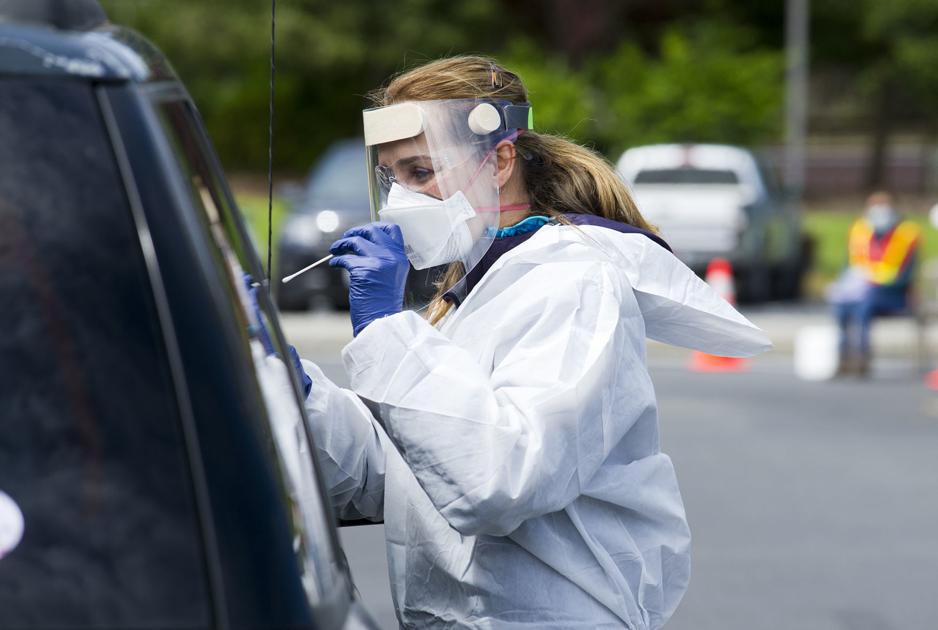 One by one, drivers eased their vehicles up to a tent and rolled down their windows to be tested for COVID-19.
The drive-thru testing Wednesday and Thursday at Utsalady Elementary School on Camano Island was one of several sites throughout Island County.
More than 5,000 people signed up for the test via an online survey. Of those, about 3,000 people were randomly selected to represent the area's demographics, said Keith Higman, Island County public health director.
"Due to an overwhelming response to the testing survey Island County will open COVID-19 testing (this week) to all Island County residents 18 years of age or older, regardless of survey completion or pre-registration status," health officials said in a news release last week.
The Utsalady Elementary drive-thru site — Camano's lone testing location — will be open 3-8 p.m. Wednesday. County health officials also set up a drive-thru at Oak Harbor High School and in South Whidbey Island.
Higman said results will help health officials understand how much disease might be in the population. Test results from last week were not available by press time. 
The health department said there will be no out-of-pocket cost for this viral polymerase chain reaction (PCR) test, but insurance information will be collected if available. Health officials said people wishing to be tested should bring identification. 
Snohomish Health District announced last week it will continue drive-thru testing at two locations in north Snohomish County this week, including 9 a.m. to 2 p.m. Wednesday outside the Stanwood Library at 9701 271st St. NW.
Testing at the Stanwood site is for people with symptoms. Appointments are needed. For more, visit snohd.org/drive-thru-testing.
So far, more than 285,000 tests for the illness have been conducted in Washington, according to the latest data released by the state Department of Health. About 6.5% have come back positive, continuing a downward trend since early April. 
However, Gov. Jay Inslee has said that in order to open more parts of the state up, state officials estimate they'll need to test about 20,000 to 30,000 people per day in the coming weeks. They've been testing between 5,000 and 6,000 so far in May.
In Snohomish County, 2,807 cases and 126 deaths have been confirmed, including 95 cases and eight deaths in Stanwood as of Monday. In Island County, there have been 181 cases and 10 deaths, including 37 cases on Camano Island and no deaths as of Friday. 
Patient Zero?
Dr. Chris Spitters, health officer for the Snohomish Health District, said Friday that it's hard to determine who in the county first had the virus. 
A Snohomish County man diagnosed with the illness in mid-January was America's first reported case — but probably not "Patient Zero," Spitters said. 
It may not be possible to determine if a few people who became ill in December and later tested positive for COVID-19 antibodies were truly sick from the coronavirus or some other respiratory infection and later acquired an asymptomatic COVID-19 infection, he said.
"Given reports like the ones that we've had and others around the country, introduction of COVID-19 may have occurred prior to mid-January," Spitters said. "While this is of scientific and academic interest, it doesn't really change where we sit today or where we have to move ahead. We need to continue our focus suppressing transmission by reducing exposures."
Meanwhile, researchers globally are still working to determine how much — if any — immunity a prior infection provides.