Team USA's all-smiles lightweight scrapper
7 min read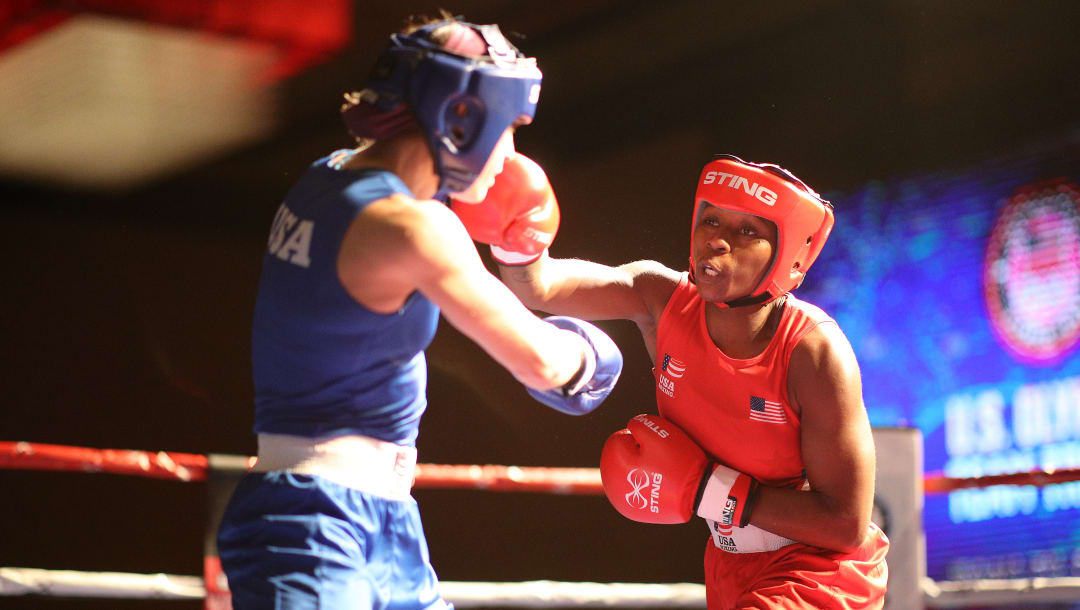 Rashida Ellis fulfilled a life-long dream by reaching the Olympic Games — and she spoke to Tokyo 2020 about her early distaste for boxing, a sport that runs deep in her family bloodlines, and the unpredictable style that's brought her to the cusp of the lightweight quarterfinals here in Tokyo. 
"I started get into fights with the boys at school," Team USA's lightweight contender, here in Tokyo for her debut Olympics, told Tokyo 2020. "You know those little guys always trying to bully the girls. Well, I just beat 'em up. I was in a fight every single day."
This is a foundational, and promising, posture for a budding pugilist. But it brought trouble for young Ellis in the schoolyard. Her parents were hauled in to meetings with the principal. Her father took [American] football – Ellis' first favourite sport – away from her. She was getting into scrapes on the gridiron too.
The first time Ellis ended up in a boxing gym it was a punishment.
"My dad took away football and made me go to the gym with my brothers," she laughed about the time her seven-year-old self walked, unknowingly, through a door that would open up a great new world before her.
"I had to go to the gym for like a week straight, every day, and I hated it," she said before the Games from her home in the waterfront city of Lynn, Massachusetts. "Two weeks after that was when I started sparring. And then I fell in love with it. I knew, right away, it was for me."
The arithmetic for that young scrapper was simple: "I could beat people up and not get in trouble over it? I'm in!"
Schoolyard scraps to Olympian dreams
While her origin story in the sport of boxing gives the impression of a mean-spirited bruiser, always out for blood, nothing could be further from the truth. In the years since those first days at the Somerville Boxing Club, discipline and passion have helped Ellis become a boxer who enters the ring, always, wearing a smile.
"For me it's no good to overthink it. I smile when I fight," said Ellis, now 26-years-old with an amateur record of 41 wins and 15 losses. "My opponents must think I'm crazy – always laughing and smiling and carrying on. But that's when I fight my best. When you get too much in your own head you can get lost."
It would be tough for Ellis to get lost – she has a lot of folks looking out for her. Her father, Ronald, who, at his wits' end, brought her to the gym all those years ago, still has a hand in her coaching. And her two brothers, Ronald Jr. (also her coach) and Rashidi, are both Golden Gloves winners who've gone on to pro careers.
Ellis also had a network of gyms in the Greater Boston area to work when things went haywire in the Spring of 2020. COVID-19 pulled the plug on the Americas Continental Qualifiers [in Argentina] and saw the Olympics postponed for a full year. She trained in the neighboring towns of Newton and Peabody and, mostly, at Private Jewels Fitness in her hometown of Lynn.
"I had my own key," she said. "And could come and go as I pleased."
She's a 2016 Golden Gloves champion, currently ranked 12th in the world in her weight class and number-one in the United States. Ellis said she "was robbed" – with a good-natured smile – by "some Russian" [Nune Asatrian, by decision] in the quarters of the pre-Tokyo Strandja Tournament in Bulgaria in February. A few weeks later, though, in Spain's Boxam Tournament, she took gold alongside her USA teammate Naomi Graham.
Now, with a win against Team Great Britain's Caroline DuBois in the Round of 16 on 30 July at the Kokugikan Arena, would find herself in the quarterfinals and a legitimate contender to medal at the Tokyo Games.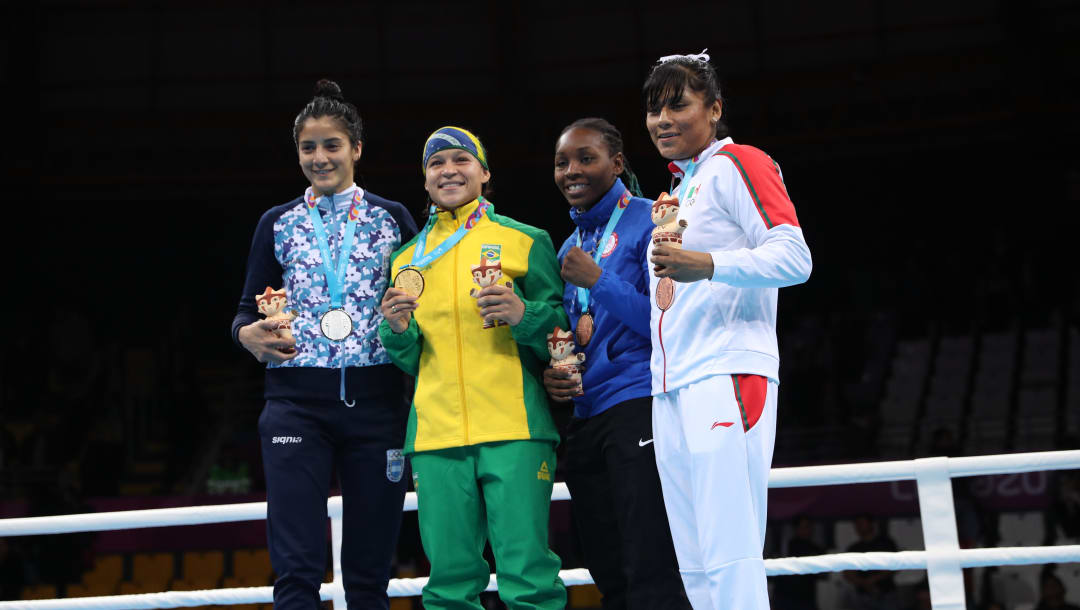 (FROM L to R) Daiana Sanchez of Argentina, Beatriz Iasmim Soares of Brazil, Rashida Ellis of United States and Esmeralda Falcon of Mexico in the podium of Women's Boxing Light (57-60kg) at Lima 2019 Pan American Games (Photo by Patrick Smith/Getty Images)
2019 Getty Images
At the peak of her form, Ellis is now hoping – and expecting – to become the first American woman to win an Olympic gold medal in the lightweight division.
The City of Sin
There's a bawdy old barroom poem about Ellis' hometown. Everyone from Lynn knows it – parts of it anyway. It starts out: Lynn, Lynn, the City of Sin / You never come out the way you came in. It goes on from there to rhyme sin with gin. Other off-colour stanzas follow. In its essence, Lynn – ten miles up the Atlantic coast from the highly gentrified city of Boston – has resisted most attempts to strips it of its grit.
And Ellis is the perfect daughter of this scrappy little city on the North Shore of Massachusetts – the US state that produced Heavyweight idols John L. Sullivan, Rocky Marciano and the recently deceased Marvelous Marvin Hagler. She's tough, likeable and not to be taken lightly. "I've always been a scrapper," she said, "I love being in competition, in that fight, where you gotta' find a way to get it done."
Her scouting profile in the ring is one of unpredictability. It's something that can drive her Irish-born Team USA coach Billy Walsh crazy. "I like to counter-punch and maybe I'm a little flashier [than other amateurs]. Some people don't like that, but hey, I like to box not just sit in the middle of the ring. Some people want to make boxing boring. Not me, I like to hit and move."
When Ellis describes her ring style, you can't help but think of Floyd Mayweather. He happens to be her hero. "I remember him from the Atlanta [1996] Olympics," she said of the year Mayweather burst onto the Olympic scene with featherweight bronze. "That's my hero right there. He don't stay quiet either – that's a man who likes to talk too."
Ellis, like the rest of her USA Boxing teammates, had to figure out ways to keep fit –mentally and physically – during the extra year of waiting caused by the Pandemic. The USA Olympic training facility for boxing in Colorado Springs was locked down (and still is). The country's Olympic hopefuls had to do most of their in-camp team training in an abandoned department store in a nearby shopping mall.  
"When I first heard about that [moving into an old Macy's to train], I was like 'whoa, hold on,'" Ellis laughed about the odd arrangement. "'I'm not sure I want anything to do with this!'"
But in that improvised way familiar to so many boxers, the team rolled with the punches. "It was bigger than what we had before and allowed us to train at the same time – the men and women both," she said. "We made the most of it and it started to feel like home."
Team USA = family affair
Ellis doesn't hesitate to talk of her USA Boxing teammates as family.
"All the girls in the team, those are all my sisters," said Ellis, about flyweight Virginia "Ginny' Fuchs, welterweight Oshae Jones and captain Graham, a staff sergeant in the US Army who fights in the middleweight division. "We love each other. When one of us is down, we have a meeting and talk it out. We've been together for more than four years now, so you have to be a family."
Ellis admits to having "a tough year" during the Pandemic. But she was able to use the delay, all the stress and negativity, and turn it to her advantage. "I'm honestly hungrier for all of it," she said. "We worked too hard for this. We're just ready. We need our time to shine because we waited too damn long."
Ellis says that being an Olympian still feels like a dream.
"This is my dream since I was ten years old…but it still doesn't feel real that I'm going [to the Olympics]. That I'm really an Olympian," she said, a gleam in her eye visible even through the two screens of a video chat. "I made the first part come true – getting to the Olympics – and now I have to make the other come true with a gold medal."
When asked what's next, Ellis took a beat. She thought hard. The answer should surprise no one who's ever seen this irrepressible lightweight do her work in the ring.
"I've been working hard for these Olympics [Tokyo 2020 in 2021] for five years now…so I'm thinking of going to the next ones too!" she enthused. "I waited all this time, so the next one [Paris 2024] feels like its right around the corner. Why not?"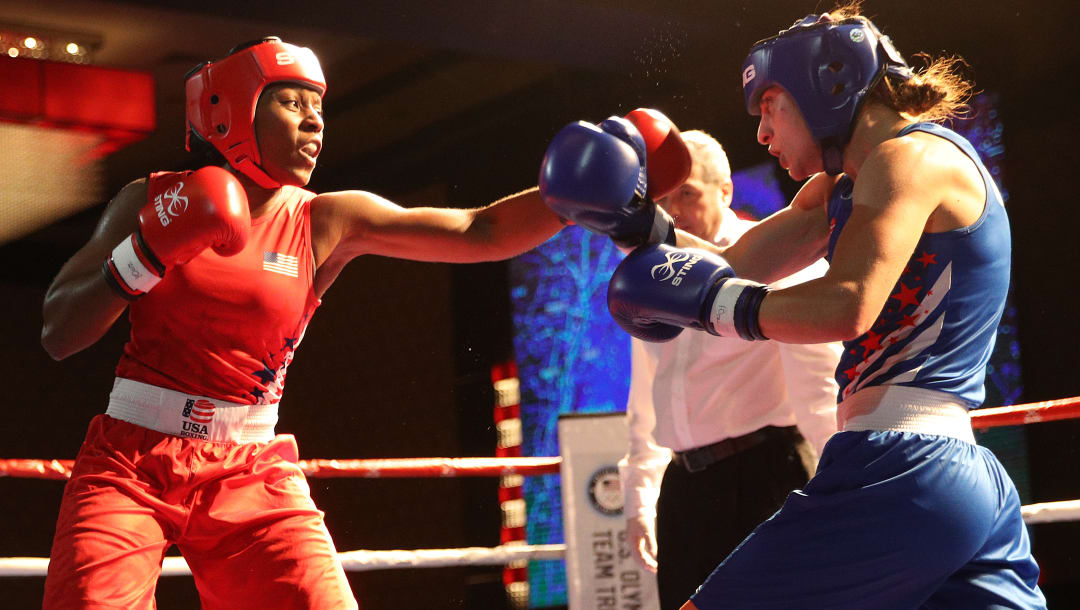 Rashida Ellis fights Ame Moore during the 2020 U.S. Olympic Boxing Team Trials (Photo by Chris Graythen/Getty Images)
2019 Getty Images