The Best No-Bake Keto Cheesecake With Toppings – Recipe
2 min read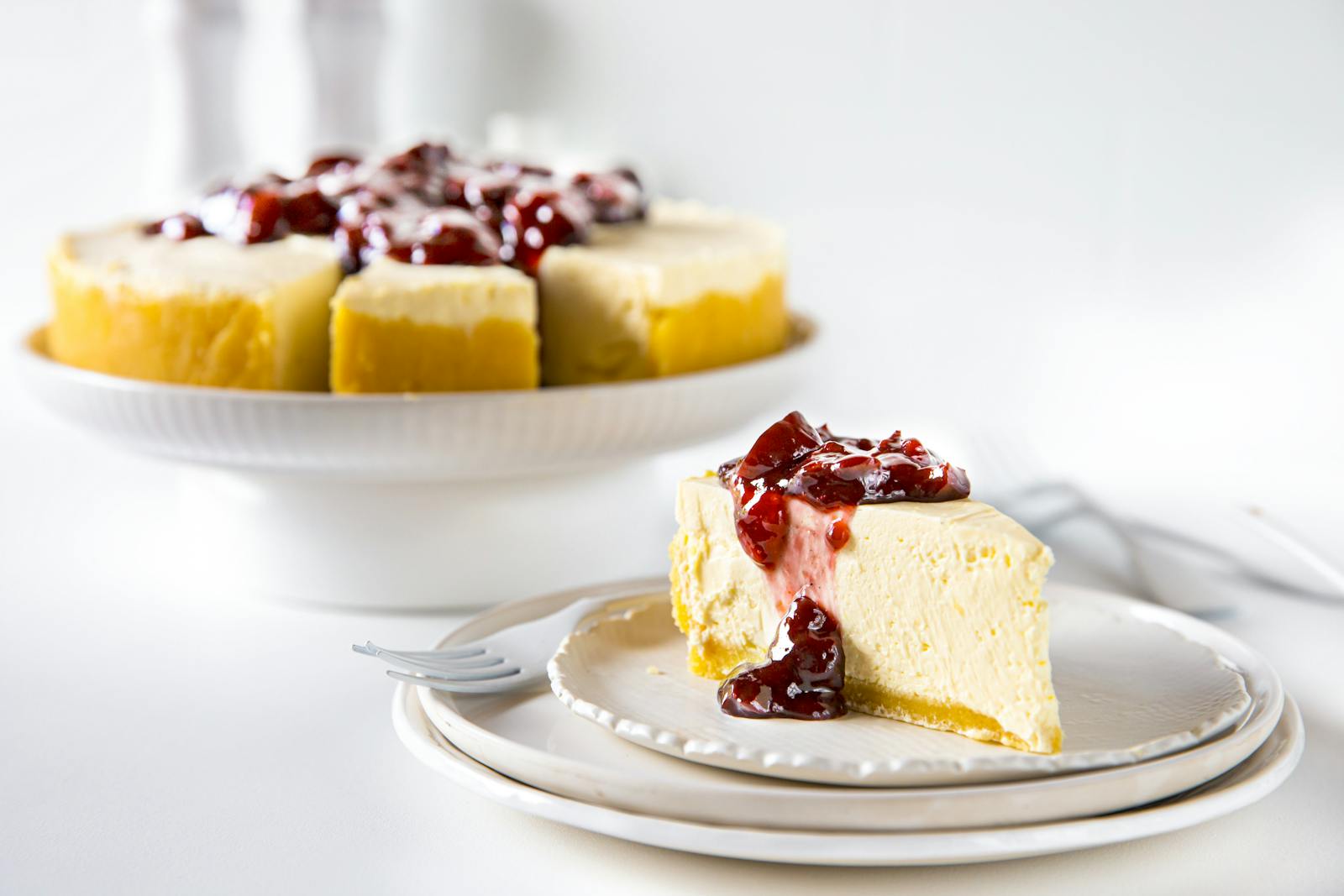 This silky, creamy, keto cheesecake has a tang of lemon and is the perfect sugar-free dessert for special occasions. You don't have to be an experienced baker to make this impressive and delicious treat — as a matter of fact, you don't even have to turn on the oven! Serve it as is or top it with your favorite low-carb toppings, such as a sugar-free cherry sauce.
Recommended special equipment
Springform pan, 9″ (23 cm)
A handheld or stand mixer
Baking the keto cheesecake crust
If you want you could also bake the crust. Baking it in the oven at 350°F (175°C) for about 10 minutes, or until golden, gives the crust more flavor and stability. Let it cool completely before you pour in the filling.
Can you freeze a no bake cheesecake?
Absolutely! Freeze the entire cheesecake uncut or carefully wrap and freeze individual slices for great portion control and a future treat. To enjoy the cheesecake after freezing, let it thaw in the refrigerator overnight or at room temperature. Individual slices will thaw more quickly than whole frozen cheesecakes.
Keto and low carb cheesecake topping suggestions
Switch it up by topping your masterpiece with toppings of your choice, such as a sugar-free fruit sauce. See below for more suggestions.

Fresh cherry sauce
+2 g net carbs/portion
8 oz (225 g) pitted and halved cherries
1 tbsp erythritol
4 tbsp water
0.25 tsp almond extract (optional)
Put all the ingredients in a saucepan on medium heat. Let it simmer until the cherries are soft and the liquid has reduced.
Let it cool completely. Spoon over cheesecake before serving.
Other topping suggestions
Check out our fruits and berries guide, and nuts guide for more inspiration.
Strawberries
Raspberries
Blueberries
Lemon or lime slices
Whipping cream
Fresh mint
Roasted almonds, hazelnuts, walnuts or pecans